Secure access to your porch, deck or basement area with a new Bruno vertical platform lift for your home. People in scooters, wheelchairs, and powerchairs will be able to enjoy a smooth and quiet ride from one level to another with a wheelchair lift from Aid 4 Mobility that offers access of up to 14 feet.
Standard Access Ramps vs. the Vertical Platform Lift
If the access point is more than 24inches off grade, then a vertical platform lift is probably the best option. Ramps require 12inches of horizontal travel for every inch of vertical travel. For example, a 36-inch rise would require a 3-inch ramp. While ramps take up a significant amount of space and can be fatiguing, a vertical platform lift features a compact design and is automatically powered.
Inside or Outside? Why Not Both?
Our Bruno vertical platform lift for wheelchairs can be used both outside and inside. Outside installations have become so common that vertical platform lifts are often referred to as "porch lifts" for their access to porches and decks. Garages are also a popular indoor installation area for wheelchair lifts.
Residential Vertical Platform Lift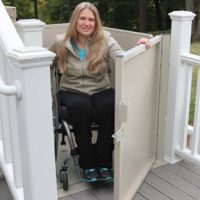 Model VPL-3100B & VPL-3200B
Gain easy access to decks, raised entries and different levels of your home with a new Bruno residential vertical platform lift (VPL). Our Bruno wheelchair lift installations are available in sizes of up to 14 ft/4267 mm, and provide cost-effective access to the previously inaccessible parts of your home. Enjoy a smooth quiet ride, easy operation and maintenance-free reliability. An American-built Bruno vertical platform lift can be installed indoors or outdoors and are code-compliant.
Commercial Vertical Platform Lift

Suitable for indoor or outdoor use, Bruno commercial vertical platform lifts are driven by a quiet ACME screw-driven DC motor that features continuous-charge battery operation for ongoing access, even during power outages. Bruno is ISO 9001 certified and all of its wheelchair lifts are made in America. Bruno's commercial vertical platform lift (VPL-3300B) series also provides churches, schools, and businesses with an alternative access solution. They are designed in accordance with ASME A18.1, section 2, and can accordingly be used in some applications for ANSI A117.1 National Accessibility Guidelines. They also meet Canadian guidelines CSA B355. When you need help with your commercial vertical platform lift, be sure to contact an Aid 4 Mobility representative at your earliest convenience.
Vertical Platform Lift Options