Here at Aid 4 Mobility, we carry a number of indoor and outdoor straight stairlifts in Rhode Island, Massachusetts and Connecticut. Some of our models include the following: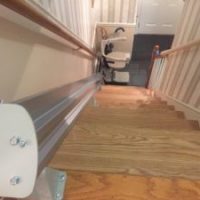 Elan Straight Indoor Model SRE 3000
Bruno stairlifts are known for their reliability and the "Elan" is no exception. This indoor stairlift is an affordable stair chair that helps you to enjoy increased mobility in the home that you love. This stairlift provides high-quality, dependable American craftsmanship and an easy-to-use interface. It also installs closely to the wall, creating the maximum amount of open space on your steps. We carry a variety of stairlift options to make your stairlift experience even more convenient and comfortable. Contact Aid 4 Mobility for more information on consultations, price quotes and expert installations!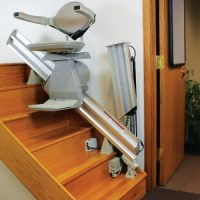 Elite Straight Indoor Model SRE 2010
When you want high-quality straight stairlifts that feature a stylized appearance, you want the Bruno "Elite." This straight chairlift provides worry-free access to every level of your home, and its premium design naturally blends in with your home's environment. We offer customized upholstery, power swivel seat and power folding footrest options that enable you to personalize your stairlift to fit all of your lifestyle needs. Made in the U.S. with exceptional engineering, Bruno stairlifts have come to be recognized for their innovative design and stable, smooth ride. Contact Aid 4 Mobility to find out more about consultations and expert installation.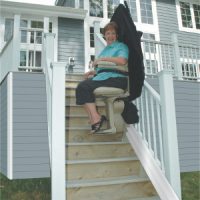 Elite Straight Outdoor Model SRE-2010E
Specifically designed to withstand even the harshest of environments, Bruno's Outdoor Elite stairlift is made to help you safely enjoy the space outside of your home. Whether you need assistance getting up your porch stairs or down your steps to the pier, Bruno stairlifts reliably take you where you need to go with ease and comfort. Its weather-resistant cover travels with the chairlift and offers protection even when it is not being used. Performance-tested in harsh temperatures, you can depend on your Bruno Outdoor Elite stairlift all year round. Depend on Aid 4 Mobility to provide you with a new sense of accessibility to your home now and in the future.
Bruno's Elan Straight Rail Stairlift
Contact our staff to find out more information about our indoor and outdoor straight stairlift prices and installation services. We serve clients throughout Rhode Island, Massachusetts and Connecticut.