If stairs create a barrier to enjoying your home, then a stairlift will help to restore access and safety to your living space while giving you the peace of mind you deserve. Our family-owned business offers a variety of stairlifts for sale in Southern New England, with choices for every budget and space. As the best-selling stairlift company in America over the last 20 years, Bruno stair lifts set the standard for stairlift quality, design, and safety. When you choose us as your local Bruno dealer, we will help you choose a chairlift that's right for you while providing professional and respectful installation and service. Thank you for considering Aid 4 Mobility as your choice to buy or rent stairlift products!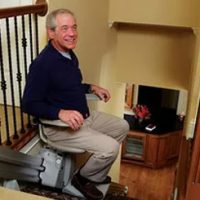 The Elan Indoor Straight Stairlift
Bruno's most popular home stairlift, the Elan, is the affordable and dependable choice for helping you enjoy a fully restored sense of accessibility to your home. Specially designed for straight indoor staircases, the Elan stairlift combines a mixture of high-quality standard performance with unsurpassed reliability and ease-of-use design. The made-in-the-USA dependability of Bruno's Elan enables you to stay in your home with a new level of comfort and ease.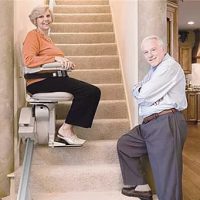 Elite Indoor Straight Home Stairlift
The superior styling and made-in-America craftsmanship of our Elite straight indoor stairlift safely connects you to every level of your home. You'll be able to enjoy easy operation and a stable, quiet ride when you take advantage of a new luxury-quality chair. Featuring a compact design that allows installation close to the wall, the Elite chairlift offers plenty of extra room on your steps. Its 400 lb. (188kg) lift capacity also delivers a great deal of power, ensuring the most dependable performance possible. When you're looking for quality and craftsmanship, Bruno is the trusted brand for all of your needs.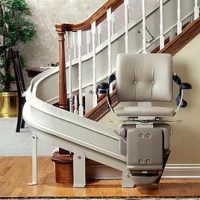 Elan Indoor Curved Rail Stairlift
High-quality custom craftsmanship is the hallmark of each Bruno Elite curved rail stairlift. Specially built to meet the exact specifications of your staircase, the Elite stairlift is designed to meld into all of its curves, and its plush chair is made to reflect upon the beauty of your home. Let Bruno's Elite custom curve stairlift safely reconnect you to every level of your home in comfort and style. Like its counterpart, the Bruno Elite chairlift also features a 400 lb. (181 kg) lift capacity.
If you are interested in learning more about these products or other stair lifts we have for sale, click here or call 1-800-270-1622 today!